We all have our favorite links. Here are a few of mine. There are so many great workshop instructors out there; I couldn't possibly list them all. Instead, I've included those which have been even more helpful to me or my students than usual, as well as some sites I particularly enjoy.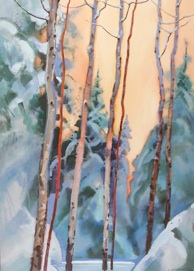 One of my absolute, all-time favorite painters & people, Stephen paints like he breathes. He's the teacher I've returned to again and again through the years.
"Winter Aspen and Golden Sky"
By Stephen Quiller
Transparent Watercolor & Casein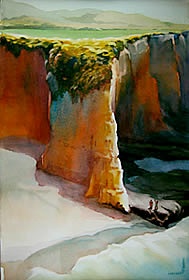 One of the best workshop instructors for teaching you how to go that one step further. If he can't break you out of your box, no one can.
"Edges"
By Mike Bailey
Watercolor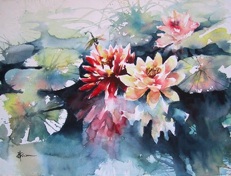 Internationally known & a very active workshop instructor, Lian (pronounced Lan as in "land") is a powerhouse of a teacher.
"Water Lily"
By Lian Quan Zhen
Transparent Watercolor & Casein
This is Reno's local -- and very active -- watercolor society. It's a great group of people.
Hospitals have amazing art collections. Click here to browse through this Reno, NV, hospital's extensive collection curated by Reno's Stremmel Gallery.