Sunflower - "23rd Psalm"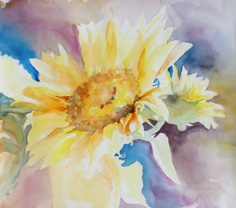 2nd Place, "Other Media" category in the Richeson 75 Still Life & Floral International Competition 2010
I began this painting with a graphite contour drawing, then applied glazes beginning with my lightest yellows, letting each layer dry before proceeding to the next. I then moved around the color wheel to a warmer (and darker value) yellow-orange for the next two glazes; then to the next warmer, darker red-orange; and so on. The Pthalo Blue was applied boldly since I knew I wanted a very dark background.
With my focal point clearly in mind, I put the first glazes of color in the leaves, building shapes and textures which would act as a foundation for the greenery's anatomy - veins; puffy, curled leaves; and so on. It doesn't look like much, but I find careful attention to shapes right from the beginning is essential to making leaves look like leaves.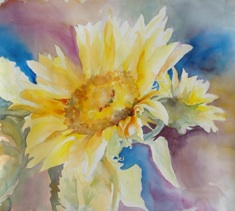 Kate's Basic Brush Rule: Brushstrokes show in watercolor. If the veins run diagonally from the leaf's center, Paint The Undercolors Diagonally From The Center. Little dabs, circles, or lengthwise strokes won't look like sunflower leaves.
At this point, I needed to get some darks in place. It's important not to bring your subject to a finish befor addressing the background unless it's going to be white or very light and airy. If you haven't started on it by th time you are halfway done with your main subject, you are setting yourself up for some challenges. It might be a great painting when you're done, but it won't look like what you had in mind.
Here, I used neutralizing glazes over much of the pthalo blue. Darks were mixed to the consistency of melted ice cream, applied where I wanted the value darkest, then softened outward with a clean, damp brush. Also, notice that I changed my mind about how much detail I wanted in the leaf to the left of the stem.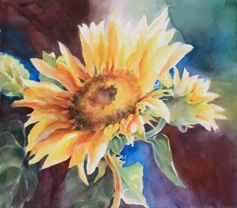 Once the painting was dry again, the final touches included further darkening and neutralizing the background with varying mixtures of my main triad. I did this by adding first more of one triad color to the mix, then adding more of another triad color. I allowed damp sections to dissolve into one another, as well as adding another neutralizing glaze over the pthalo blue. After that, it was a matter of balancing the painting with neutralizing glazes in the petals and with small darks where more detail was needed to guide the viewer through the painting.
Main triad:
Permanent Orange - Maimeri Blu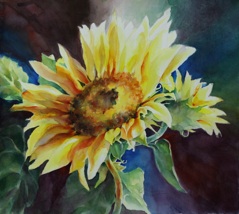 Green Blue - Maimeri Blu
Quinacridone Violet - M. Graham
Along with:
Cadmium Yellow Light - M. Graham
Cadmium Red Light - Maimeri Blu
Cadmium Red - M. Graham
Pthalocyanine Blue - M. Graham
"Portal - Mt. Whitney"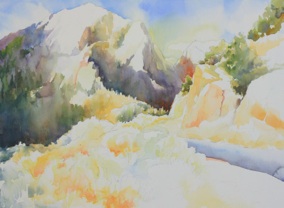 As with most of my landscapes, I began with the wet-in-wet sky, working at a 50-degree angle. This allowed me to link the sky to the rest of the painting by guiding drips down into the crevices and shadows. I then applied a glaze of Naples yellow mixed with my primary yellow, cadmium yellow light, until I liked the balance of that color throughout the painting. This included parts of the leftmost shadow area of the mountain. I then mixed Naples with permanent orange for a warmer and darker value for the next glaze. Cadmium red light was applied boldly in the focal area, then more lightly through the rest of the painting for balance.
Sky Colors:
Cerulean Blue - M. Graham
Ultramarine Blue - M. Graham
Naples Yellow - Quiller/Blockx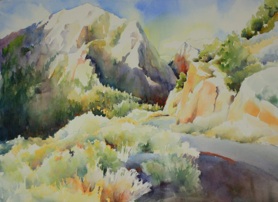 Tree greens were all mixed by adding warm or cool pure hue to Green Blue. I started with light underpainting (first illustration above), then added cool shadows once they were dry. Once this had dried, I added darker values and more tree shapes (right).
Sage and rabbit brush have a chalky look, especially in autumn, so I used Naples and cerulean as my base green, adding warms or cools to the mixture as needed. Cerulean with a little cadmium red worked nicely for the road, melting into warms and cools for the dark patch in the right foreground. Touches of pure cadmium red at the road's edge and in the deep shadow at Whitney's base balance the intense underpainting in the focal area.
Shadow Colors:
Green Blue - Maimeri Blu
Quinacridone Violet - M. Graham
Naples Yellow - Quiller/Blocks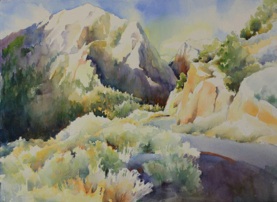 The road edge stood out too much, so I softened it using dry-brush technique. That still didn't do it, so I added a quiet bush form in the lower right corner to stop the eye from moving off the painting. Almost done, but... Viewing the painting upside down revealed what had been bothering me. The trees in the upper right corner were too dark (previous illustration) and led right off the painting. A quick trip to the sink with spray bottle in hand solved that problem. Now all I have to do is frame it and deliver it to its new home!
"Peace Like a River"
Completing a painting, or "knowing when to stop", is definitely an acquired skill. As figure painter extraordinaire Ted Nuttall says, the same painting has dozens of stopping places. The one you choose is the one that says what you wanted to say.
Below, I have a painting that I am really excited about. Thinking I was done, I took a photo of it only to find that I'm not. Quite. So I decided to post it and show you what it looks like in the before form, then add the after as soon as I finish it.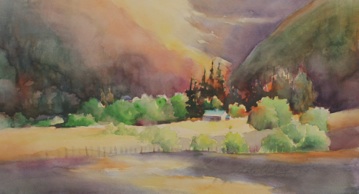 In this color version, you can see that the balance of greens is a little off on the right side of the barn. The trees need a bit of pure hue for balance of color and balance of value. I will probably also tone down the whites in the top treeline on the right side just a bit.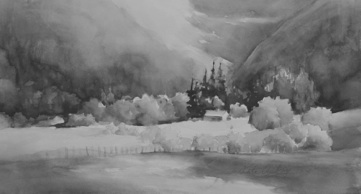 The imbalance is a little harder to see in the black-and-white version, but it's there. The very subtlety of it is a warning not to overdo when I add my greens.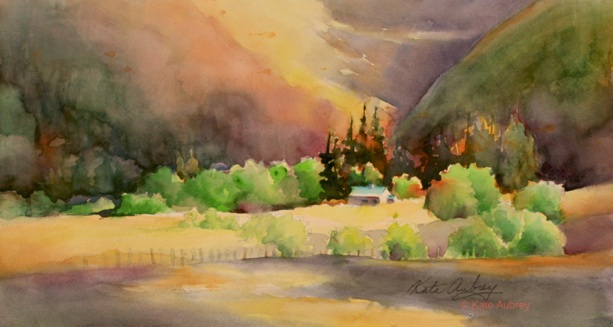 And the final version! I did increase the values in the shadowed parts of the trees to the right and across the foreground. I also knocked off the small bits of white in the top treeline so they don't compete with the center of interest. Now the eye travels through the whole painting, lingering a little longer on the focal point instead of staying in the top half. Success!
4/25/11
"Testament"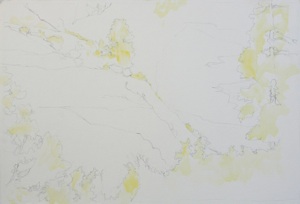 You have probably noticed that I don't use a lot of masking fluid, preferring to paint around my whites, but every now and then, masking is exactly what the painting in my head requires. I use Incredible White Mask and the plastic, chiseled handle of a Loew-Cornell 7300C watercolor brush to apply it where fine control is needed and my finger in larger areas. I learned this from the excellent watercolor instructor, Lian Zhen. If you look carefully, you can see both the drawing and the dried masking.
Land Form Colors:
Permanent Orange - Maimeri Blu
Quinacridone Violet - M. Graham
Green Blue - Maimeri Blu
with
Cadmium Red - M. Graham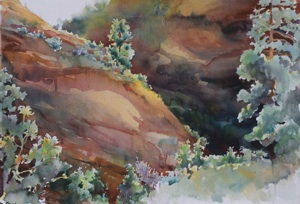 From there, I poured on my main triad colors to begin building the land forms, mixing and moving them on the paper with my brush, a Richeson 7000 1-1/2" flat and some judicious paper-tilting. When the paper lost its sheen, I charged in a few darker values. When it dried, I poured again. The interesting swoosh of red just below the focal tree began as a Quin. Violet puddle. I poured it above the base of the hill, defined the lower edge with my brush, t hen spread it upward with the outside edge of my palm in a move that felt like what the earth patterns in my reference looked like. It's a gut/dancing kind of thing.
After adding more patterns and strengthening the darks, then letting it dry thoroughly, I removed the masking and went to work on my first wash for the trees (above right). All my greens were made by mixing the Green Blue with other colors listed (right), but my first application in the sunglow areas was Cadmium Yellow Light. To maintain the glow, it was important to leave some whites and not to cover all the Cad. Yellow Lt. with greens.
Important Note: Be sure to wear disposable gloves when spreading paint with your hands to avoid absorbing toxins through your skin.
Tree Colors:
Green Blue - Maimeri Blu
Permanent Orange - Maimeri Blu
Quinacridone Violet - M. Graham
Cadmium Yellow Light - M. Graham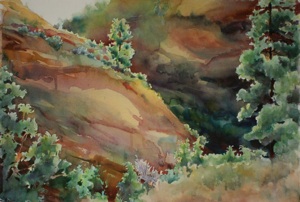 After building the shadow patterns of the trees and putting in the lower right grassy area, I spent some time looking at it. A lot. Upside down, sideways. It wasn't balancing right.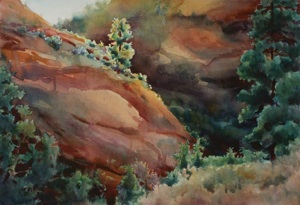 As usual, the devil was in the details. I love details (ask any of my students), and the lacework of brances was SO much fun. Unfortunately, all that lace was distracting. To finish this piece, I had to "kill my darlings." Not only did I brin gthe tree values much closer to their surrounding values, I also painted out all the whites and almost all of the lightest greens in the branches. A little darker value for weight down in the grassy patch (lower right), and I was done.
Main triad:
Permanent Orange - Maimeri Blu
Green Blue - Maimeri Blue
Quinacridone Violet - M. Graham
Along with:
Naples Yellow - Quiller/Blockx
Cerulean Blue - M. Graham
Cadmium Yellow Light - M. Graham
Cadmium Red Light - Maimeri Blu
Cadmium Red - M. Graham
Ultramarine Blue - M. Graham
The Inner Lives of Callas
Don't open a shop unless you like to smile. -- Chinese Proverb
Don't become an artist unless you like to explore. -- Kate's Corollary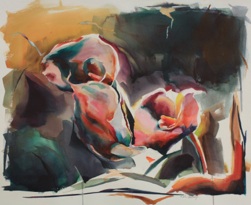 About three years ago during one of his excellent workshops, Mike Bailey told us that painting in series would take us to new, exciting places in our art. He said that somewhere around painting number 25 of the same basic subject, a shift would occur in the way we think about painting. He was right. I've been painting callas for 15 years, now, and you only have to look at "Dark Lily" (calla painting no. 20 at right) to see the truth of that. "A shift" is putting it lightly.
The biggest change is that more of myself is included in each painting. That is, instead of a painting being 90% about a particular subject, callas in this case, 90% of it comes from within. For me, callas are a very personal flower. I don't know why. With them, though, I can look at feelings, life changes, and relationships with a clarity I can't achieve any other way. Those feelings do amazing things with my brush.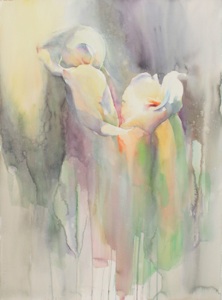 Now look at "Weeping Lily" (painting no. 21, left, unfinished). It's the same three callas, but we're looking at a very different set of emotions. Right now I'm at a point where I need to decide how to crop the painting before I finish it. As always, there are many possibilities, but my process has changed.
First I turn the photo to black and white, then I try cropping it in as many ways as I can think of. In this case, the two subordinate callas must be included or it simply won't speak of my emotions. The painting needs all three. Taking that into account, here are some contenders:
Right now I'm leaning toward numbers 1 and 3. Painting 4 has its good points but I don't like the competing shape in the lower left sweet spot (one of the four places in a painting where a center of interest fits most naturally). Number 2 has too much of a feeling of air; attention flows into the upper background and gives it a happier, summer day feel.
So. How do I decide? First I insert photos 1 and 3 into my word processing program (i.e. Pages or Word), two on a page. I print the document, separate the photos with scissors, then start shading in values so I have two "instant thumbnails". Compositionally, it turns out that they both work. Now I can ask myself the deciding question: Which one says what I wanted to convey?
In the end, I choose thumbnail 3. It carries the emotional intent I wanted...it wept. Check out the finished version on the Experimental page in my Gallery.