I love to paint. It's like breathing, only better.
A painting is a possibility, a wave of color and light. Nowhere is that more true than with watercolor. It is my first and foremost choice of media precisely because it doesn't just do what it's told. There is a certain mischief in it. Watercolor allows me to be silly when I can be and serious when required. It lets God take a hand in things. I love the randomness.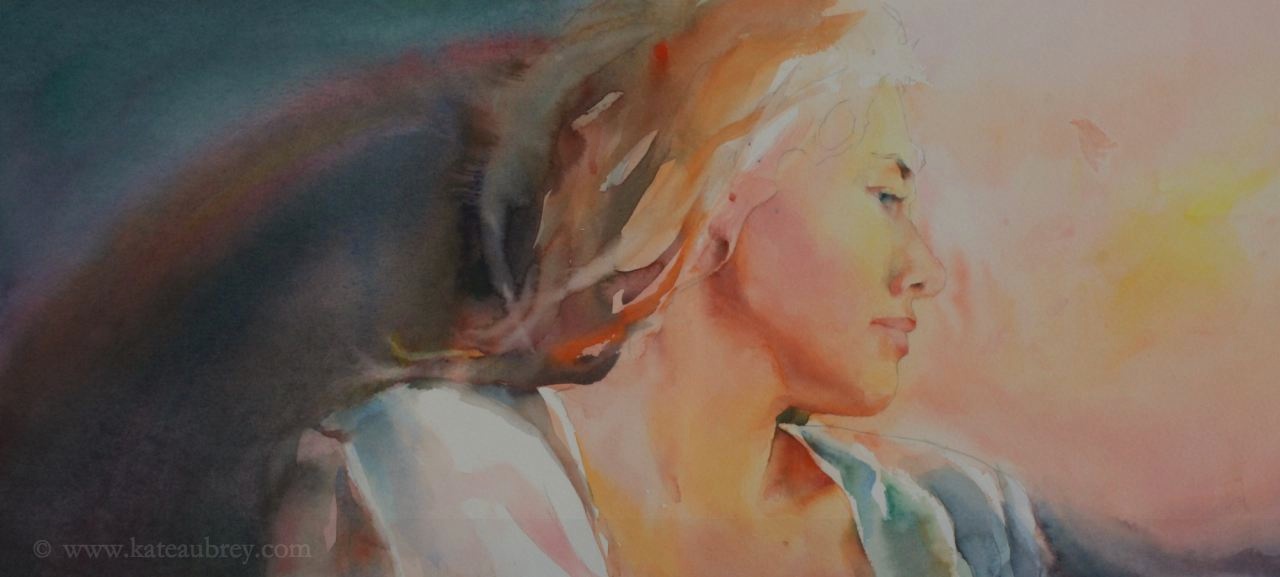 Painting is a dance with many partners. Why do I relate to this model and not another? Is it her outer beauty or her inner fears? Perhaps it is both. We are in this painting together, after all, and so are you. You are lost in that young man's eyes, see there? You are in every painting, your hope and your hanging on, your love and your joy, your sorrows, your fears. It's all in there. What's not to love?
Colors bring me the greatest joy. There must be dark and light and the design those two bring with them, but I revel in the colors. Red enlivens; I want to know everything about it. Green is the true lifeblood. Grays hold secrets almost seen; they give order to life.
Of course, there must be contrasts. We must have the play of light against shadow, the warm against cool, the sorrow behind the smile. Without contrasts, no statement is made.
Then comes emotion. We hunger for it. If there is no emotion in a painting, then what is the point? Working from the heart is like touching God and being touched gently in return...or maybe not so gently. Sometimes it's like fire. Often I don't know I'm doing it until I stand back at the finish. There they are though: pathos and envy, summer-sweet memories, steadfast courage, love. I paint them all, knowingly or not, regardless of subject or genre.
The act of painting allows me to see things more clearly than I can in any other way. It has taught me that seeing involves much more than my eyes. Sometimes when things are really flowing, I feel a little bit of red...just...there. My arm wants it there, just like...so. The very best marks are those my heart makes without the help of my mind. That kind of thing happens more and more as I grow in my art.
The best part? It's all a grand experiment. I am happier knowing that.
About Kate
A devoted watercolorist for 35 years, Kate Aubrey enjoys mixed media techniques which include various combinations of gouache, acrylic, casein, pen-and-ink, and pastels with her watercolors.

Her paintings include all genres from landscape to figure, her personal favorites being figure and florals. Nevertheles, it was a recent landscape which was accepted into the 71st Annual Northwest Watercolor Society Open Exhibit in Seattle this year. Her paintings have also been accepted into three Richeson 75 International Competitions, including "23rd Psalm" a floral which was awarded 2nd place in the non-oil division.
She was honored to be the artist selected to exhibit her work in the Leadership Room of the Nevada State Legislature Building during the 2007, 2009, and 2011 Legislative Sessions, and was selected as the Featured Artist for the 2007 annual Soroptomists of Reno Arts, Authors, and Automobiles show.

Other exhibits include a solo show at the Silver State Gallery in Reno and a dual location group show with three other artists, "Broads Abroad", which was sponsored by Sierra Arts Foundation. "Broads Abroad" was also exhibited in Winnemucca, Nevada.

A self-taught artist, Kate has studied with noted artists Stephen Quiller, Charles Reid, Carol Orr, Ted Nuttall, Don Andrews, Lian Zhen, and Mike Bailey.

Corporate collectors include Reno's Renown Hospital, the Carson-Tahoe Hospital, St. Mary's Hospital, First Independent Bank, and the Reno Hilton.

Kate taught drawing and watercolor classes at the Truckee Meadows Community College Continuing Education campus, as well as classes and workshops at her studio off Geiger Grade until her recent move to Cape Cod. She was named Continuing Education Teacher of the year in 2011. Prior to that, she was a regular Museum School teacher at Reno's Nevada Museum of Art for four years, where she taught all levels of watercolor classes and workshops. Workshop locations include Filoli Gardens south of San Francisco, Mono Lake, and Virginia City, among others.

Recently relocated from Reno, Nevada to Cape Cod, Massachusetts, Kate is fascinated by light and color, value and emotion. Nevada, California, Colorado and England, move over. New England has found its place on her list of favorite places to paint.

She advocates painting from life whenever possible, and can often be seen with her large black dog, easel, and palette painting en plein aire in the Falmouth area of Cape Cod or any other place she happens to be. Friendly bystanders and questions are welcome.