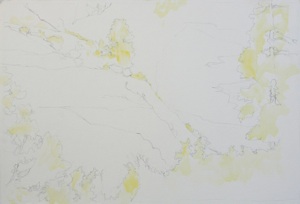 You have probably noticed that I don't use a lot of masking fluid, preferring to paint around my whites, but every now and then, masking is exactly what the painting in my head requires. I use Incredible White Mask and the plastic, chiseled handle of a Loew-Cornell 7300C watercolor brush to apply it where fine control is needed and my finger in larger areas. I learned this from the excellent watercolor instructor, Lian Zhen. If you look carefully, you can see both the drawing and the dried masking.
Land Form Colors:
Permanent Orange - Maimeri Blu
Quinacridone Violet - M. Graham
Green Blue - Maimeri Blu
with
Cadmium Red - M. Graham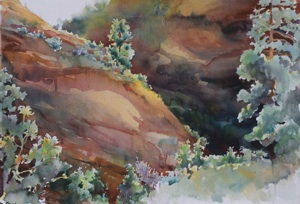 From there, I poured on my main triad colors to begin building the land forms, mixing and moving them on the paper with my brush, a Richeson 7000 1-1/2" flat and some judicious paper-tilting. When the paper lost its sheen, I charged in a few darker values. When it dried, I poured again. The interesting swoosh of red just below the focal tree began as a Quin. Violet puddle. I poured it above the base of the hill, defined the lower edge with my brush, t hen spread it upward with the outside edge of my palm in a move that felt like what the earth patterns in my reference looked like. It's a gut/dancing kind of thing.
After adding more patterns and strengthening the darks, then letting it dry thoroughly, I removed the masking and went to work on my first wash for the trees (above right). All my greens were made by mixing the Green Blue with other colors listed (right), but my first application in the sunglow areas was Cadmium Yellow Light. To maintain the glow, it was important to leave some whites and not to cover all the Cad. Yellow Lt. with greens.
Important Note: Be sure to wear disposable gloves when spreading paint with your hands to avoid absorbing toxins through your skin.
Tree Colors:
Green Blue - Maimeri Blu
Permanent Orange - Maimeri Blu
Quinacridone Violet - M. Graham
Cadmium Yellow Light - M. Graham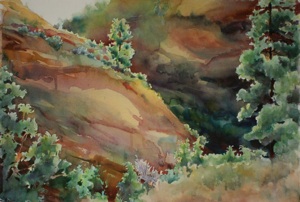 After building the shadow patterns of the trees and putting in the lower right grassy area, I spent some time looking at it. A lot. Upside down, sideways. It wasn't balancing right.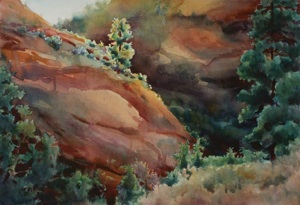 As usual, the devil was in the details. I love details (ask any of my students), and the lacework of brances was SO much fun. Unfortunately, all that lace was distracting. To finish this piece, I had to "kill my darlings." Not only did I brin gthe tree values much closer to their surrounding values, I also painted out all the whites and almost all of the lightest greens in the branches. A little darker value for weight down in the grassy patch (lower right), and I was done.
Main triad:
Permanent Orange - Maimeri Blu
Green Blue - Maimeri Blue
Quinacridone Violet - M. Graham
Along with:
Naples Yellow - Quiller/Blockx
Cerulean Blue - M. Graham
Cadmium Yellow Light - M. Graham
Cadmium Red Light - Maimeri Blu
Cadmium Red - M. Graham
Ultramarine Blue - M. Graham