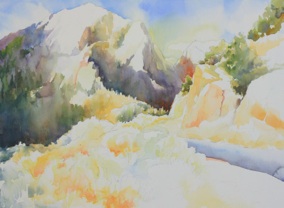 As with most of my landscapes, I began with the wet-in-wet sky, working at a 50-degree angle. This allowed me to link the sky to the rest of the painting by guiding drips down into the crevices and shadows. I then applied a glaze of Naples yellow mixed with my primary yellow, cadmium yellow light, until I liked the balance of that color throughout the painting. This included parts of the leftmost shadow area of the mountain. I then mixed Naples with permanent orange for a warmer and darker value for the next glaze. Cadmium red light was applied boldly in the focal area, then more lightly through the rest of the painting for balance.
Sky Colors:
Cerulean Blue - M. Graham
Ultramarine Blue - M. Graham
Naples Yellow - Quiller/Blockx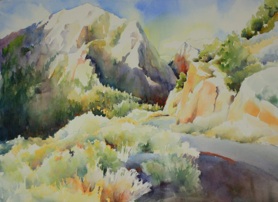 Tree greens were all mixed by adding warm or cool pure hue to Green Blue. I started with light underpainting (first illustration above), then added cool shadows once they were dry. Once this had dried, I added darker values and more tree shapes (right).
Sage and rabbit brush have a chalky look, especially in autumn, so I used Naples and cerulean as my base green, adding warms or cools to the mixture as needed. Cerulean with a little cadmium red worked nicely for the road, melting into warms and cools for the dark patch in the right foreground. Touches of pure cadmium red at the road's edge and in the deep shadow at Whitney's base balance the intense underpainting in the focal area.
Shadow Colors:
Green Blue - Maimeri Blu
Quinacridone Violet - M. Graham
Naples Yellow - Quiller/Blocks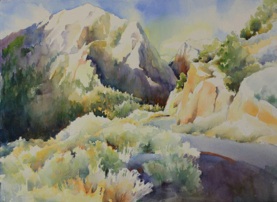 The road edge stood out too much, so I softened it using dry-brush technique. That still didn't do it, so I added a quiet bush form in the lower right corner to stop the eye from moving off the painting. Almost done, but... Viewing the painting upside down revealed what had been bothering me. The trees in the upper right corner were too dark (previous illustration) and led right off the painting. A quick trip to the sink with spray bottle in hand solved that problem. Now all I have to do is frame it and deliver it to its new home!